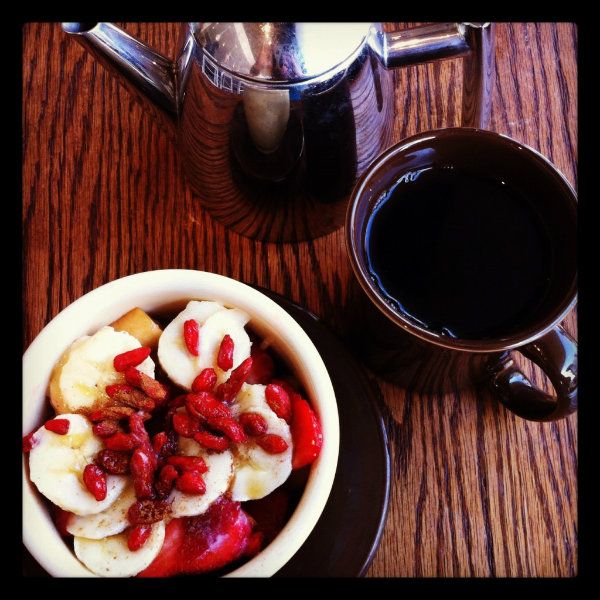 Cafe Gratitude on Larchmont. I found this little jem on my way home from Yoga at YogaWorks on Larchmont. A friend of mine then told me that this place had items on their menu that were GF and I could probably eat. That's all I needed to go in and try it. This restaurant is 100% organic vegan and specializes in gourmet raw and cooked cuisines.
In researching their business I found that they use organic produce from our their own farm in Vacaville, CA (Be Love Farm). They created a menu that promotes consciousness and sustainability for overall wellness of humans and the earth. In addition they support local farmers, sustainable agriculture and environmentally friendly products.
The best part of CG is that the food is prepared with love (awww) and it taste like heaven. All the food on the menu has fun positive affirmations like "I am Sustained", "I am Bonita" and "I am Humble". I do enjoy the fact that I can eat pretty much eat everything on the menu (not all at once of course) and not have to worry about it having an unknown ingredient that comes from a lab. All the food tastes fresh and everyone that works there is incredibly pleasant.
If you live in the Los Angeles Area and enjoy a nice fresh organic meal, you MUST try… You will not be disappointed.
My Favorites from Cafe Gratitude:
For Breakfast: I AM SUSTAINED Steamed quinoa with fresh fruit, goji berries, cinnamon, maple syrup and coconut milk
For Lunch: I AM ELATED Raw enchiladas with spicy corn, mango and red pepper sunflower seed pate, raw cacao mole, and cashew queso fresco on live spinach flax tortillas served with a side salad 
For Dinner: I AM HUMBLE Indian curried lentils over brown rice or quinoa, with sautéed sweet corn, potatoes and spinach, drizzled with a spicy mint chutney and sweet tamarind sauce
No related posts.